One of the hardest Vasebreaking Puzzle yet. Sheer Luck and reflex are needed to win this 2nd last stage!
Difficulty: Very Hard
Plants Found
Edit
Threepeater
Wall-nut
Squash
Repeater (Backwards)
Peashooter
Snow Pea
Potato Mine
Plantern
Zombies Found
Edit
Zombie
Buckethead Zombie
Jack-in-the-Box Zombie
Gargantuar!?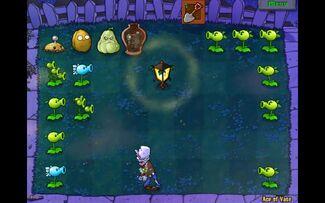 Strategies
Edit
As the name says, Ace of Vase. The plants you get are mostly Pea-based, with the Threepeater having the most range and the Repeater having the most DPS. The Squash is the most reliable instant, so use that for most Bucketheads (though a Repeater, Threepeater and Snow Pea gives the same results). The catch of this stage is the Gargantuar, which will ruin your defenses easily. The best way to take it out is to use a Plantern to find it, then put 2+ instants around it, like the Potato Mine and the Squash. Other than that, good luck. You'll need it.
Ad blocker interference detected!
Wikia is a free-to-use site that makes money from advertising. We have a modified experience for viewers using ad blockers

Wikia is not accessible if you've made further modifications. Remove the custom ad blocker rule(s) and the page will load as expected.