Presumably annoying, but this puzzle can still be easily finished anyway. Timing becomes more important here now with the Magnet-shrooms. Dead Zeppelin is the fifth I,Zombie level.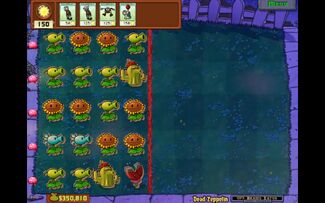 Difficulty: Moderate
Plants Found
Edit
Peashooter
Sunflower
Magnet-shroom
Snow Pea
Cactus
Zombies Found
Edit
Zombie
Buckethead Zombie
Bungee Zombie 100 sun.
Balloon Zombie 125 sun.
One of my favourite to do, because this is so annoying. The Magnet-shroom's range of attraction is 3 squares, thus, do not send Bucketheads in that area until it is gone. Have a regular Zombie get some Sun first, then Bungee the magnets. Your Bucketheads now have free reign. However, if you want to make it easier and you have enough Sun, send out your Balloons in no-cactus rows. You can bypass everything else, except the occasional Sunflowers. Balloon Zombies should be set, at heavily armed rows.
"Dead Zeppelin" basically refers to the Balloon Zombie, who actually is a Zeppelin.
</p>
Ad blocker interference detected!
Wikia is a free-to-use site that makes money from advertising. We have a modified experience for viewers using ad blockers

Wikia is not accessible if you've made further modifications. Remove the custom ad blocker rule(s) and the page will load as expected.