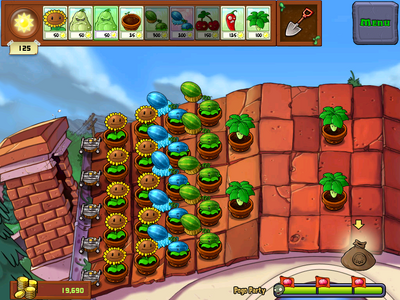 Pogo Party is a 3-flag minigame, where the majority of the zombies are Pogos. Winter Melons for the win!
Sunflower
Squash and Imitater Squash (Potato Mines can't kill Pogos)
Flower Pot
Melon-pult
Winter Melon
Twin Sunflower (optional)
Instant Kills (NO POTATO MINES!)(optional)
Umbrella Leaf (Optional)
Note: NEVER USE THE TALL-NUT OR THE MAGNET-SHROOM!
Flags: 3
First, plant 7 Sunflowers ASAP. One can be upgraded to a twin, but make sure you have enough sun for a Squash. A Pogo Zombie should appear. Kill it with a Squash. Do the same thing with Imitater Squash until you have enough sun to retaliate (500). Plant a Winter Melon on a row with a Pogo Zombie. Repeat. Use the instants in emergencies, and, if you chose Umbrella Leaf, then Plant them on the 5th and 8th column, rows 2 and 4. They should be ready by the third flag. Now just watch the action, but plant Melon-pults if you want to (DON'T double up on the Winter Melons! You are wasting 200 sun just for this.). This should give you "Sproing! Sproing!".