One of the most happy-go-lucky minigames. Make sure you have some luck!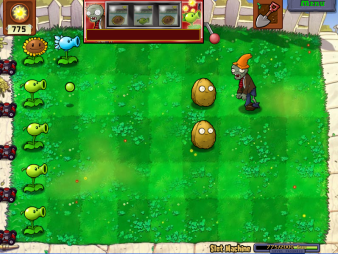 Difficulty: Easy
Plants Used
Edit
Sunflower
Peashooter
Snow Pea
Wall-nut
Others:
Zombies Found
Edit
Zombie
Conehead Zombie
Buckethead Zombie
There is no true strategy for this, as everything you get is extremely random. However, there are some tips to get 2000 sun:
Leave 2 columns for at the back for Sunflowers
Keep your Snow Peas behind your Peashooters, preferably in the 3rd column.
Plan ahead; make sure that you put your Wall-nuts to the right of your shooters, but not so close as so you have to waste Wall-nuts by digging them up to replace for shooters.