Stage 1-1 is the first adventure stage. It is extemely easy, not even needing a strategy to win, but... fine.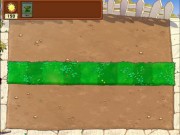 Plants used
Edit
Peashooter(New.)
Sunflower -Replay-
Potato Mine -Replay-
Anything else should work...
Zombies found
Edit
Flag Zombie(only on replay. If replay new.)
Number of Flags: 1
First Play
Edit
Simply:
Repeat until you win. The whole stage shouldn't take up to 2 minutes.
Do exactly like the above, though you can add Potato Mines and whatever Crazy Dave gives.
You get the Sunflower after this level, and of course Stage 1-2.
Ad blocker interference detected!
Wikia is a free-to-use site that makes money from advertising. We have a modified experience for viewers using ad blockers

Wikia is not accessible if you've made further modifications. Remove the custom ad blocker rule(s) and the page will load as expected.