Stage 1-2 is the second adventure stage. It's a bit moderate but it's very easy.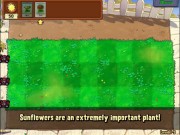 Difficulty: Easy
Plants Used
Edit
Peashooter
Sunflower new.
Cherry Bomb -Replay-
Anything else should work...
Zombies Found
Edit
Number of Flags: 1
First Play
Edit
Two more strips of grass will roll out here. One on the top, another on the bottom, each above and below the "mid-strip." Plant 3 or 6 Sunflowers in the back, then plant more Peashooters until you get a solid defense.
Since you now have a full lawn, forget any Cherry Bomb strategies. Plant Sunflowers, Potato Mines, and any alternative that is better than them Peashooters.
Ad blocker interference detected!
Wikia is a free-to-use site that makes money from advertising. We have a modified experience for viewers using ad blockers

Wikia is not accessible if you've made further modifications. Remove the custom ad blocker rule(s) and the page will load as expected.