Well, your day has almost been completed. This time we're going to the 9th level! Please don't be so fast or you will have to play again!
==Overview==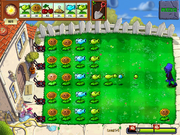 Difficulty: Moderate
Plants Used
Edit
Sunflower
Peashooter
Cherry Bomb
Potato Mine
Snow Pea
Repeater new.
Zombies Found
Edit
Zombie
Conehead Zombie
Flag Zombie
Buckethead Zombie
Pole Vaulting Zombie

Number of Flags: 3
First Play
Edit
Use the Sunflower/Potato Mine Strategy to hold off the first Zombies, then plant Peashooters and Snow Peas. Replace the former with Repeaters once you get enough Sun. Also do not be afraid to use the Cherry Bomb.
===Replay===
Do as of the above. There is usually no difference.
==Outcome==
Ad blocker interference detected!
Wikia is a free-to-use site that makes money from advertising. We have a modified experience for viewers using ad blockers

Wikia is not accessible if you've made further modifications. Remove the custom ad blocker rule(s) and the page will load as expected.