From now on, battles will be easier with the Fume Shroom. It rocks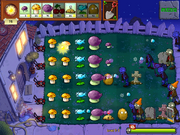 Difficulty: Hard
Plants Used
Edit
Sun-shroom
Puff-shroom
Fume-shroom new.
Snow Pea
Peashooter/Repeater
Grave Buster (replay)
Anything will do (replay)
Zombies Found
Edit
Zombie
Conehead Zombie
Screen Door Zombie new.
Flag Zombie.

Number of Flags: 1
First Play
Edit
With the absence of the Buckethead, this is like a walk in the park. Plant Sun- Shrooms in the first 2 columns, then plant Fume Shrooms in the next 2. These literally take care of everything. The rest can be used as Puff-shroom slots. The Snow Pea can be used if wanted, just plant them behind the Fumes.
As of the above, but this time there will be Bucketheads. Use Magnet-Shrooms or instants to take care of them. Use Grave Busters to remove all of the Graves, they can be a problem if one of them shows deep into your lawn.
Ad blocker interference detected!
Wikia is a free-to-use site that makes money from advertising. We have a modified experience for viewers using ad blockers

Wikia is not accessible if you've made further modifications. Remove the custom ad blocker rule(s) and the page will load as expected.