This stage's reward will be nice. Just fend off the invasion!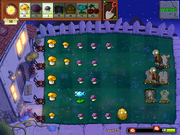 Difficulty: Moderate
Plants Used
Edit
Sun-shroom
Puff-shroom
Snow Pea
Grave Buster new.
Fume Shroom
Anything Else (Replay)
Zombies Found
Edit
Zombie
Conehead Zombie
Flag Zombie
Screen Door Zombie
Pole Vaulter Zombie
Number of Flags: 2[checking needed]
First Play
Edit
Plant as you would, with the Sun-shroom/Snow Pea/Fume-shroom/Puff-shroom build. Destroy those pesky graves with Grave Busters from now on. Note that destroying graves actually give you extra cash, and can actually give out DIAMONDS too.
As of the above.