A fast-paced minigame stage which, unlike the other stages, has the Sun come out of ZOMBIES. Get your mouse ready!
==Overview==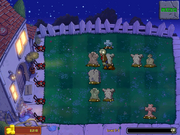 Difficulty: Moderate
Plants Used
Edit
Grave Buster
Potato Mine
Cherry Bomb
Zombies Found
Edit
Zombie
Conehead Zombie
Buckethead Zombie

Number of Flags: 0
First Play
Edit
This is just like the Whack a Zombie Minigame. Plant Potato Mines at the 1st column and eat away the graves. Most important of all, you MUST whack off thte horde that comes from the graves!
===Replay===
As of the above, but the Zombies tend to come in hordes this time and and their speed seems faster.
==Outcome==
Ad blocker interference detected!
Wikia is a free-to-use site that makes money from advertising. We have a modified experience for viewers using ad blockers

Wikia is not accessible if you've made further modifications. Remove the custom ad blocker rule(s) and the page will load as expected.