The Zombies are back again. This time, with the Dancing Zombies, the level is harder than 2-7.
==Overview==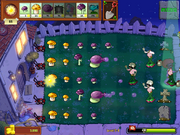 Difficulty: Hard
Plants Used
Edit
Sun-shroom
Puff-shroom
Fume-shroom
Hypno-shroom
Scaredy-shroom
Grave Buster
Doom-shroom (Replay)
Anything else shall do
Zombies Found
Edit
Zombie
Conehead Zombie
Screen Door Zombie
Football Zombie
Dancing Zombie

Number of Flags: ?
First Play
Edit
Dancing Zombies appear here. Dancing Zombies aren't so bad themselves, but they summon a foursome of Backup Dancers to back themselves up. Hypno-shroom them as soon as you see them to make them do your bidding. Only one wave here and very few Dancing Zombies.
===Replay===
Same as above. But if you bought 10 seed slots, you can choose Cherry Bomb, Squash and Jalapeno
==Outcome==
Ad blocker interference detected!
Wikia is a free-to-use site that makes money from advertising. We have a modified experience for viewers using ad blockers

Wikia is not accessible if you've made further modifications. Remove the custom ad blocker rule(s) and the page will load as expected.