4 Pool Glooms No Pumpkin Strategy
Edit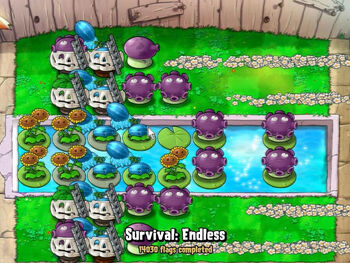 This Strategy Focuses on having an almost Bungee safe setup and Plants placed in a Position where no Zombie can even do a single bite on any Single Plant .
This Setup was based on draco89123's Harmless Setup and this Setup uses almost the same principle as his Harmless Setup but this version is pushed one tile back.
Relies Heavily on Delaying Zombies in order to maximize the effectiveness of Doom Shrooms and squash. while at the same time using a reasonable small amount of Gloom Shrooms in order to reduce the costs of repairing the setup if in case any of the Pool Glooms get blasted by jacks.
SpecificationsEdit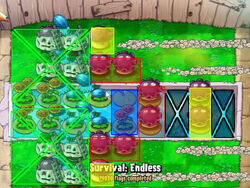 This is a laddered Setup which means it uses Ladders to reduce pumpkin maintenance. however the setup itself doesn't need to be maintaned by pumpkins.
GREEN - these Plants are protected by an Umbrella leaf and is definitely safe against Imps, catapults and bungees
RED - These are the "core" of the setup. These Plants need to be kept safe No Matter what
BLUE - This is the Second Line of Defence Against Dolphin Rider Zombies
YELLOW - These Plants serve as the setup's 1st layer of Defence these plants really help a lot and are usually the ones that are replaced every now and then especially when they are destroyed.
BLACK - These are the 4 Doom Shroom Spots
This Setup relies too Much on Delaying Strategies that it really takes a veryyyy long time to finish a certain round
Overall This Setup is very stable and is very easy to use and relies heavily on the timing of Ice Shrooms and Blover and requires no pumpkin maintenance
Ad blocker interference detected!
Wikia is a free-to-use site that makes money from advertising. We have a modified experience for viewers using ad blockers

Wikia is not accessible if you've made further modifications. Remove the custom ad blocker rule(s) and the page will load as expected.