This minigame is just insaniquarium, with zombies instead.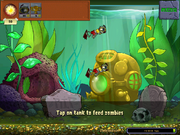 Zero...
Snorkel Zombie
Easy. You have two zombies from the start, with each zombie after those costing 100 sun. Click the screen to add a brain to the tank; these are necessary for the zombie's survival. If a zombie turns green, then the zombie is hungry. It dies if you don't feed it in time. Collect 1000 sun to end the level.
Ad blocker interference detected!
Wikia is a free-to-use site that makes money from advertising. We have a modified experience for viewers using ad blockers

Wikia is not accessible if you've made further modifications. Remove the custom ad blocker rule(s) and the page will load as expected.